Site-Selective Installation of Nϵ-Modified Sidechains into Peptide and Protein Scaffolds via Visible-Light-Mediated Desulfurative C–C Bond Formation
Griffiths, Rhys C.; Smith, Frances R.; Long, Jed E.; Scott, Daniel; Williams, Huw E.L.; Oldham, Neil J.; Layfield, Robert; Mitchell, Nicholas J.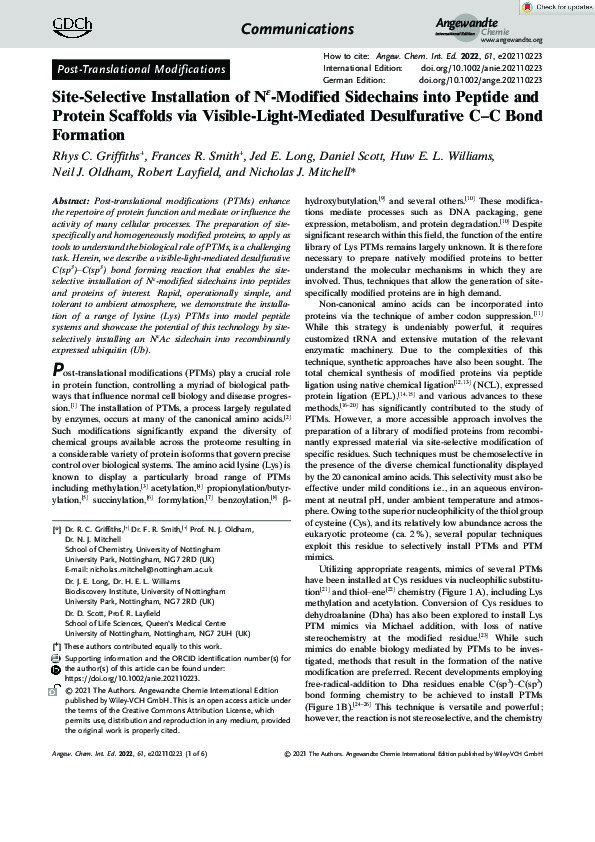 Authors
DANIEL SCOTT DANIEL.SCOTT@NOTTINGHAM.AC.UK
Nottingham Research Fellow
HUW WILLIAMS HUW.WILLIAMS@NOTTINGHAM.AC.UK
Senior Research Fellow
NEIL OLDHAM NEIL.OLDHAM@NOTTINGHAM.AC.UK
Professor of Biomolecular Spectrometry
ROBERT LAYFIELD robert.layfield@nottingham.ac.uk
Professor of Protein Biochemistry
Abstract
Post-translational modifications (PTMs) enhance the repertoire of protein function and mediate or influence the activity of many cellular processes. The preparation of site-specifically and homogeneously modified proteins, to apply as tools to understand the biological role of PTMs, is a challenging task. Herein, we describe a visible-light-mediated desulfurative C(sp3)–C(sp3) bond forming reaction that enables the site-selective installation of Nϵ-modified sidechains into peptides and proteins of interest. Rapid, operationally simple, and tolerant to ambient atmosphere, we demonstrate the installation of a range of lysine (Lys) PTMs into model peptide systems and showcase the potential of this technology by site-selectively installing an NϵAc sidechain into recombinantly expressed ubiquitin (Ub).
Citation
Griffiths, R. C., Smith, F. R., Long, J. E., Scott, D., Williams, H. E., Oldham, N. J., …Mitchell, N. J. (2022). Site-Selective Installation of Nϵ-Modified Sidechains into Peptide and Protein Scaffolds via Visible-Light-Mediated Desulfurative C–C Bond Formation. Angewandte Chemie International Edition, 61(2), Article e202110223. https://doi.org/10.1002/anie.202110223
Files
Site-Selective Installation of Ne-Modified Sidechains into Peptide andProtein Scaffolds via Visible-Light-Mediated Desulfurative C–C BondFormation (1.7 Mb)
PDF
Publisher Licence URL
https://creativecommons.org/licenses/by/4.0/
You might also like
Downloadable Citations