Development of cancer surveillance guidelines in ataxia telangiectasia: A Delphi‐based consensus survey of international experts
Neves, Renata; DeDiosPerez, Blanca; Panek, Rafal; Jagani, Sumit; Wilne, Sophie; Mahendra Bhatt, Jayesh; Caputi, Caterina; Cirillo, Emilia; Coman, David J; Dückers, Gregor; Gilbert, Donald L.; Koenig, Mary Kay; Mansour, Lobna; McDermott, Elizabeth; Pauni, Micaela; Pignata, Claudio; Perlman, Susan L; Porras, Oscar; Porto, Mariela Betina; Schon, Katherine; Soler-Palacin, Pere; Russo, Sam Nick; Takagi, Masatoshi; Tischkowitz, Marc; Wainwright, Claire; Dandapani, Madhumita; Glazebrook, Cristine; Suri, Mohnish; Whitehouse, William P; Dineen, Robert A.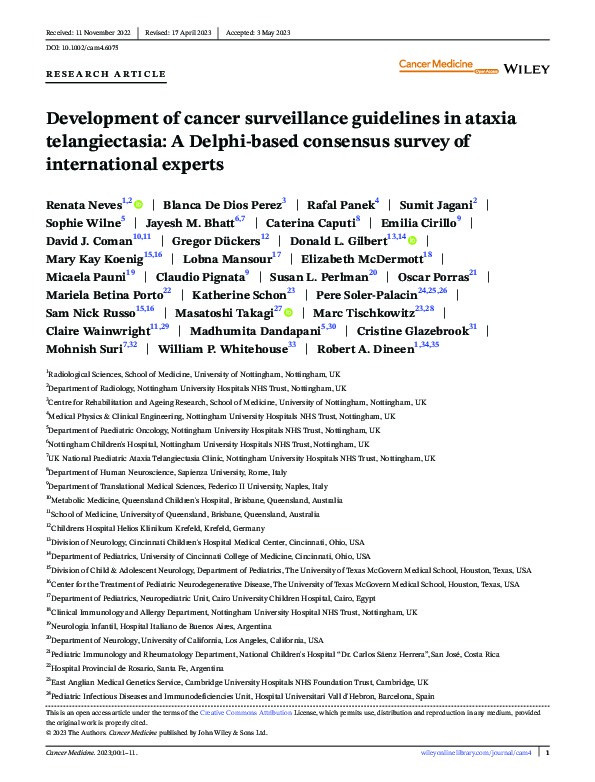 Authors
Dr MADHUMITA DANDAPANI Madhumita.Dandapani@nottingham.ac.uk
Clinical Associate Professor of Paediatric Oncology/Neuro Oncology
ROBERT DINEEN rob.dineen@nottingham.ac.uk
Professor of Neuroradiology
Abstract
Background/Objectives: Ataxia telangiectasia (A‐T) is a multiorgan disorder with increased vulnerability to cancer. Despite this increased cancer risk, there are no widely accepted guidelines for cancer surveillance in people affected by A‐T. We aimed to understand the current international practice regarding cancer surveillance in A‐T and agreed‐upon approaches to develop cancer surveillance in A‐T. Design/Methods: We used a consensus development method, the e‐Delphi technique, comprising three rounds. Round 1 consisted of a Delphi questionnaire and a survey that collected the details of respondents' professional background, experience, and current practice of cancer surveillance in A‐T. Rounds 2 and 3 were designed based on previous rounds and modified according to the comments made by the panellists. The pre‐specified consensus threshold was ≥75% agreement. Results: Thirty‐five expert panellists from 13 countries completed the study. The survey indicated that the current practice of cancer surveillance varies widely between experts and centres'. Consensus was reached that evidence‐based guidelines are needed for cancer surveillance in people with A‐T, with separate recommendations for adults and children. Statements relating to the tests that should be included, the age for starting and stopping cancer surveillance and the optimal surveillance interval were also agreed upon, although in some areas, the consensus was that further research is needed. Conclusion: The international expert consensus statement confirms the need for evidence‐based cancer surveillance guidelines in A‐T, highlights key features that the guidelines should include, and identifies areas of uncertainty in the expert community. This elucidates current knowledge gaps and will inform the design of future clinical trials.
Citation
Neves, R., DeDiosPerez, B., Panek, R., Jagani, S., Wilne, S., Mahendra Bhatt, J., …Dineen, R. A. (2023). Development of cancer surveillance guidelines in ataxia telangiectasia: A Delphi‐based consensus survey of international experts. Cancer Medicine, 12(13), 14663-14673. https://doi.org/10.1002/cam4.6075
Files
You might also like
Downloadable Citations