Immigrant women's experiences of maternity-care services in Canada: a systematic review using a narrative synthesis
Higginbottom, Gina M.A.; Morgan, Myfany; Alexandre, Mirande; Chiu, Yvonne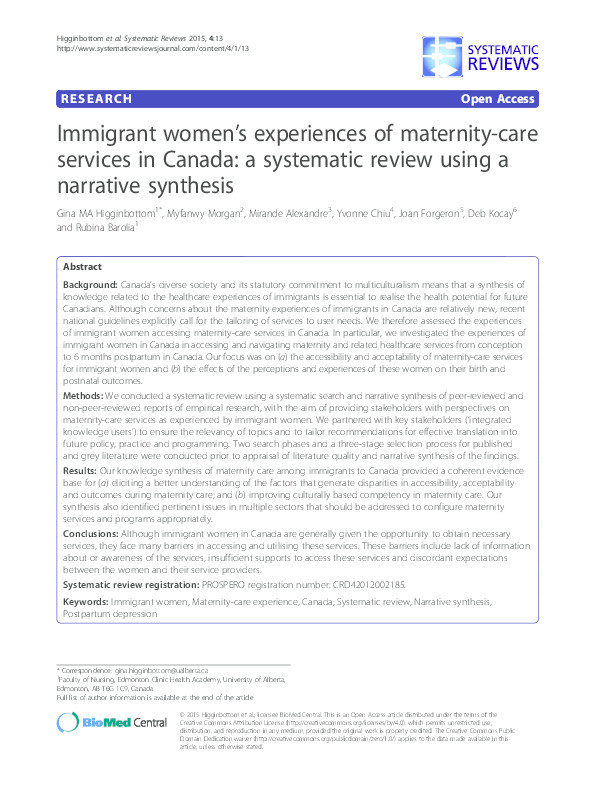 Authors
Abstract
Background: Canada's diverse society and its statutory commitment to multiculturalism means that a synthesis of knowledge related to the healthcare experiences of immigrants is essential to realise the health potential for future Canadians. Although concerns about the maternity experiences of immigrants in Canada are relatively new, recent national guidelines explicitly call for the tailoring of services to user needs. We therefore assessed the experiences of immigrant women accessing maternity-care services in Canada. In particular, we investigated the experiences of immigrant women in Canada in accessing and navigating maternity and related healthcare services from conception to 6 months postpartum in Canada. Our focus was on (a) the accessibility and acceptability of maternity-care services for immigrant women and (b) the effects of the perceptions and experiences of these women on their birth and postnatal outcomes.

Methods: We conducted a systematic review using a systematic search and narrative synthesis of peer-reviewed and non-peer-reviewed reports of empirical research, with the aim of providing stakeholders with perspectives on maternity-care services as experienced by immigrant women. We partnered with key stakeholders ('integrated knowledge users') to ensure the relevancy of topics and to tailor recommendations for effective translation into future policy, practice and programming. Two search phases and a three-stage selection process for published and grey literature were conducted prior to appraisal of literature quality and narrative synthesis of the findings.

Results: Our knowledge synthesis of maternity care among immigrants to Canada provided a coherent evidence base for (a) eliciting a better understanding of the factors that generate disparities in accessibility, acceptability and outcomes during maternity care; and (b) improving culturally based competency in maternity care. Our synthesis also identified pertinent issues in multiple sectors that should be addressed to configure maternity services and programs appropriately.

Conclusions: Although immigrant women in Canada are generally given the opportunity to obtain necessary services, they face many barriers in accessing and utilising these services. These barriers include lack of information about or awareness of the services, insufficient supports to access these services and discordant expectations between the women and their service providers.

Systematic review registration: PROSPERO registration number: CRD42012002185.
Citation
Higginbottom, G. M., Morgan, M., Alexandre, M., & Chiu, Y. (2015). Immigrant women's experiences of maternity-care services in Canada: a systematic review using a narrative synthesis. Systematic Reviews, 4, Article 13. https://doi.org/10.1186/2046-4053-4-13
Journal Article Type
Article
Acceptance Date
Jan 5, 2015
Publication Date
Feb 11, 2015
Deposit Date
Jul 21, 2016
Publicly Available Date
Jul 21, 2016
Journal
Systematic Reviews
Electronic ISSN
2046-4053
Publisher
Springer Verlag
Peer Reviewed
Peer Reviewed
Volume
4
Article Number
13
DOI
https://doi.org/10.1186/2046-4053-4-13
Keywords
Immigrant women, Maternity-care experience, Canada, Systematic review, Narrative synthesis,
Public URL
https://nottingham-repository.worktribe.com/output/745119
Publisher URL
http://systematicreviewsjournal.biomedcentral.com/articles/10.1186/2046-4053-4-13
Additional Information
HIGHLY ACCESSED
This paper describes an innovative approach to systematic review and became highly accessed with 4 weeks. The paper includes co-authors from the University of Alberta Canada and the Aga Khan University, Pakistan. I supervised Dr Barolia as a PhD student and was research mentor for Joan Forgeron.

Funding for this study gained in open national competition - Canadian Institute for Health Research. I was PI for this study.
Files
Systematic Review Findings paper 2015.pdf (1.3 Mb)
PDF
Copyright Statement
Copyright information regarding this work can be found at the following address: http://eprints.nottingham.ac.uk/end_user_agreement.pdf
Downloadable Citations